The blog title refers to a general understanding as to basic civil rights, so long as the rules themselves don't breach criminal or (some) civil laws. There are those however who see their right to do what the hell they like in someone else's property as a god given right... that god being the false one of islam.
Telegraph
.
Birmingham Metropolitan College ordered all students, staff and visitors to remove any face coverings so individuals are "easily identifiable at all times".
The move led to claims that Muslim students were being discriminated against after women were told they could not wear the niqab, a veil that leaves only a slot for the eyes.
The disclosure comes as proposals to ban face coverings in public places are being debated in Parliament.
A private members bill proposed by Philip Hollobone, the Conservative MP for Kettering, would make it an offence for someone to wear "a garment or other object" intended primarily to obscure their face, in public.
Jack Straw, the Labour former foreign secretary, is among MPs who have drawn criticism by asking women visiting their constituency surgeries to consider removing their veils.
Yes, the members of the religion of permanent offence despite the fact that the niqab is not mentioned in their battle manual are up in arms that someone who isn't a family member might see the face of a woman. Which says a lot more about the utter insecurity and sexual depravity of muslim males than anything else. No doubt there are some who think it is genuine discrimination, however were I to try to enter any premises wearing a full cover motorcycle helmet I'd be asked to remove it or prevented from entering it by staff. Try the same in a cylon outfit as worn by some muslim females and you're the one who is in the wrong...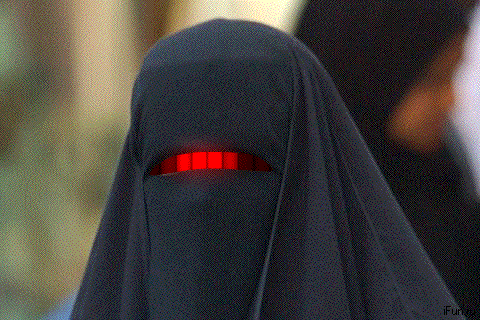 Yup... cylon
Frankly this move has been on the cards for a while now as muslims have used the niqab to force their views on others as well as being a definite health hazard in northern climates as the need for desert wear simply doesn't make sense here.
No doubt there will be outrage both faux and genuine, but frankly well done Birmingham Metropolitan College for having the balls to say no more.