Twice a year I have to travel from my home in the Medway towns into London, I have a hospital appointment that although it doesn't take all to long, necessitates an all day visit. Yet for all I don't particularly like London we've (my good lady and I) made a very nice day of it starting with a relaxing train journey into Victoria and a tube trip to Kensington South. Very cold and overcast, but no snow like yesterday. Then we have a quick trip into the Royal Marsden hospital for an x-ray then off to the
Anglesea Arms
for a pint or two of ale.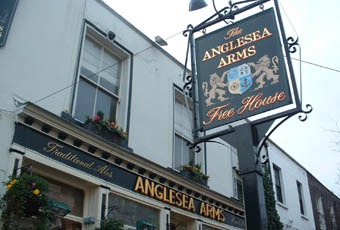 I wouldn't say it was a traditional Victorian pub, though it has all the trappings of one, nor is it the clientèle as it's as mixed as a large city ever has, there's no juke box or fruit machines, it's just a bloody good pub with a variety of real ales, wines and spirits, excellent chef too.
I had a pint of Sharps Nadelik (4.6%abv) apparently it's their Christmas beer Nadelik meaning Christmas in Cornish. And very pleasant it was, bit like Old Peculiar in flavour, but not as strong or as potent.
Then it was back to the hospital for a check up with the doctors and back home, stopping off for a Cornish pasty in Victoria en-route.
I'm glad to do the visit, it's not just the pub, or even the Cornish pasty tradition, if the whole rigmarole could be called a tradition, we've only been doing it 3 years. It's the circumstances surrounding it, 3 years ago I was diagnosed as having cancer, a large malignant tumour in my arm had to be removed. 10 years ago I'dve lost the arm, 50 years ago it would have killed me, slowly, painfully but assuredly. At the time I was looking at losing my job, losing my independence and probably having the good taxpayers of the UK supporting me via invalidity allowances. Instead I still have a working arm though nerve damaged and half a bicep missing. I still have a job and a great deal of freedom and for this I'm thankful for the skills of the consultant surgeon and thankful that I can travel into London, still alive and still fully functional, plus I can enjoy a decent pint in a decent pub and use either hand to pick it up with.
Yes it's a humdrum day, but thank God for that.