Today was my bi-annual trip into London to get my arm checked over since I had a cancerous tumour removed. The visit to the hospital was routine with a chest x-ray and a visit to the radiotherapy clinic who check me over mostly by asking how I felt and checking my lymph glands and poking at the scar. What makes it a good day though is a visit to my favourite London pub, The Anglesea Arms on Selwood Terrace SW7 close to the Royal Marsden Hospital where I go to be poked and prodded.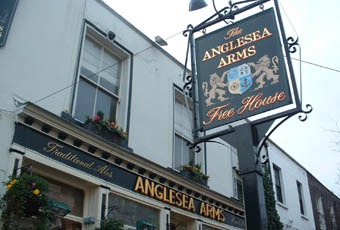 As pubs go it has a very friendly atmosphere and a clientèle which can only be described as eccentric after all how many pubs do you know where a customer turns up riding one of these?
Yep, that's right, as we just sitting there enjoying a pint of Doombar this guy pulls up on a penny farthing and greets another customer with "You're looking smart today." And gets the reply, "Another bloody funeral."
It's one of those pubs where you could sit all day with a pint or seven and just people watch. Bare floorboards and scrubbed tables, but wood panelling, old photos, prints and some impressive oil paintings, coupled with the absence of any music or fruit machines, almost heaven really.
The selection of beers and wines is huge, you can even get mulled wine there if you are so inclined. Pub meals can only be described as "gourmet" class and although they aren't as cheap as a "Brewsters" or "Weatherspoon's" they aren't as generic either and all prepared on the spot from fresh ingredients.
If it weren't for the Anglesea Arms, my trips into London would be so much more boring and lengthy seeming, it's almost a shame that after next July I'll only be going in once a year. It's almost tempting to just go in and visit the museums for a chance to go back more often.
Lady QM loves the place too, so I'll probably suggest a visit just for a chance to people watch again.